May 31st, 2010 by De Onion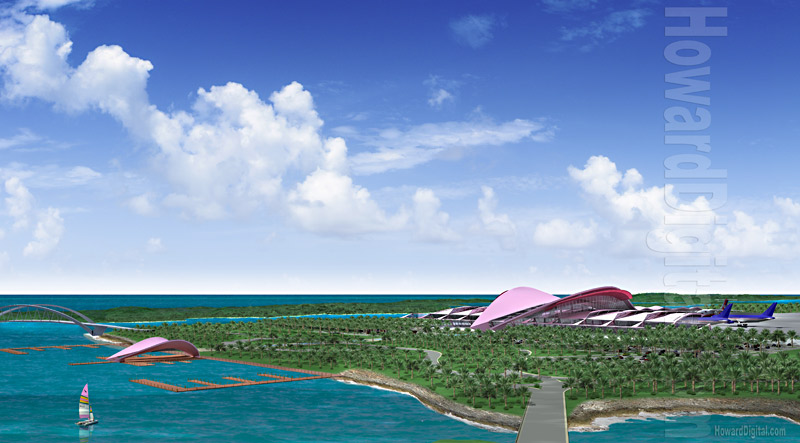 The proposed new Bermuda International Airport terminal has already elicited summary commentary from Vexed and politics.bm.
IMHO this rendering reflects everything that's wrong with both architect's understanding of Bermuda and the Bermuda Government's lavish proposals.
The key things wrong with it:
– Incredibly expensive.
We're looking at a cost of 300-400 MILLION dollars… which given the Bermuda government's record in contracting really means 600 million dollars. Assuming they don't manage to go over budget then it's between a 22 million and 30 million annual payment amortised over 30 years – and I think it's correct to look it as an amortised expense not capitalised because we're almost certainly going to pay for it with more debt on top of the billion or so dollars already racked up.
– Terrible use of land.
In most of the island it's worthwhile to build multi-story car parks to maximise the amount of available space. The same is true of government land, even if we pretend it's worthless the reality is that virtually the entire buildable land of Bermuda faces economics more like the downtown of a major city – see: London City Airport. It shouldn't be an architect's wet dream of a sea of palm trees and grand indoor spaces. We have a land use crisis in Bermuda that stems in large part from government inappropriately using land (Morgan's Point, Club Med, etc.)
The problem with "iconic" buildings is that they have a nasty habit of looking the same everywhere in the world and of becoming dated with time. Being an iconic builidng is a bit like being a respected politician – if you have to tell people you're one then you're probably not.
This is what an iconic Bermuda building really looks like:

For today make it cheap, make it work, and make it efficient – ie. maintain and renovate the existing building as necessary.
We will need to build a new airport in the next 100 years as sea level rises somewhere between a few inches and a few feet… that's where we should be pointing this incredibly large chunk of our resources.